Drums are a collective percussion instrument — that is, one that combines several different types of percussive instruments into one. They provide rhythm and are the backbone of nearly all modern rock, hip-hop, blues, jazz, and other types of popular music.
There are numerous techniques involved with playing drums. The building blocks of playing drums are known as rudiments and can be practiced on a silent drum pad or even on the top of your leg. These rudiments provide the technique for playing beats, grooves, and solos on the full kit.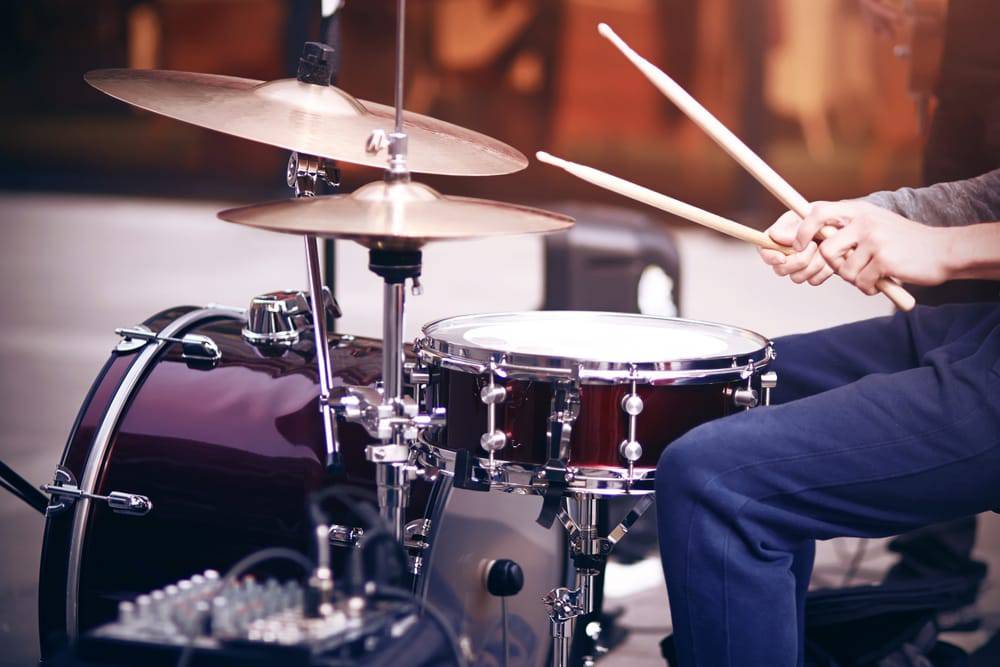 When you open your mind, there's always something new to uncover on your music journey. Our course includes the basics of playing a drum like stick holding, foot techniques & body posture. You will be trained in paddle movement from both legs and in moving both hands-on the drums or on a drum pad. Further, you'll be introduced with the drum beats fundamentals and you will gain expertise in 4/4, 8/8 and 16 beats. Another important part of this course is to provide hands on experience on rolling with beats and fillers. Through this course, you can enable yourself to become an advanced-level drummer or even establish a music band.
We strive to deliver the best with style. Our drum lessons, classes, programs & courses will help you bring out your hidden musical talents. Here, you will receive Drum lessons that will help develop your drum learning skills. Our trained drum teachers will help you to learn play the drums the right way. Our programs include drum lessons for kids / children and drum lessons for beginners. This also includes drum lessons for teenagers / youth and drum lessons for adults. Join us to learn to play drums the right way.
The Course structure is based on Western Music. Where you will be taught to play Western Music compositions.
WITH OUR DRUMS CLASSES, YOU WILL BE ABLE TO
Rock and pop drumming according to the course provided by Trinity rock.

Play solo Drums and playing with Brushes.

Learns basic beats (3/4, 3/2, 4/4, 16).

Learn how To hold Drumsticks and tune your Drums.

Learn Drum Rolls and Rock Drumming Beats.

Proper posture and Cross sticking technique.

Become musically ready for next level courses.

Get online learning resources like exercises, Tips, Videos etc. to help continue the fun at home!

We deliver One-to-One attention and guidance.

We share Progress Report with parents at the end of every month.

We award certificates for the courses, competitions and Events.e have
Playing the drums is a great stress buster.  Hitting a drum can relieve frustration and disappointment.  It can boost your mood, your brain power, and even increase academic performance.  Drumming helps the child/adult to be confident.  Playing the drum requires discipline and focus to be able to play loud or soft as required.  It requires that you are able to read non-verbal cues.  Reading non-verbal cues is an essential life skill in today's unsympathetic world.
Our Online Drum Classes are here to make sure that your skill-set is in the process of fine-making and that you can develop your talent under the techniques taught to you by the best. Learn Drums Online, through live training only on The Honour's School of Music.
Online Drums course is suitable for all ages, from kids to adults. You can start at any age, for any reason. We're sure you'll love it. 
We have designed and built a curriculum that is simple enough to upgrade the students from the very beginning to help transform even complete beginners into actual drummers.
All of our drum teachers are trained to the highest standards and offer professional drums classes.
The one-on-one nature (just you and your teacher) of private lessons allow the teacher to customize each lesson, song, exercise, and musical challenge to your exact needs at that exact point in your learning process. 
Online(remote/virtual) music lessons are an effective and popular way to learn drums as there are many benefits such as:
Safety

Convenience

Time savings

Transportation savings

Your drum teacher can help you with your at-home drum set (tuning, adjustments, etc.)
Bottom Line, you're going to have an enriching, rewarding, and challenging experience, and you're going to love it!
The Honour's school of music unique features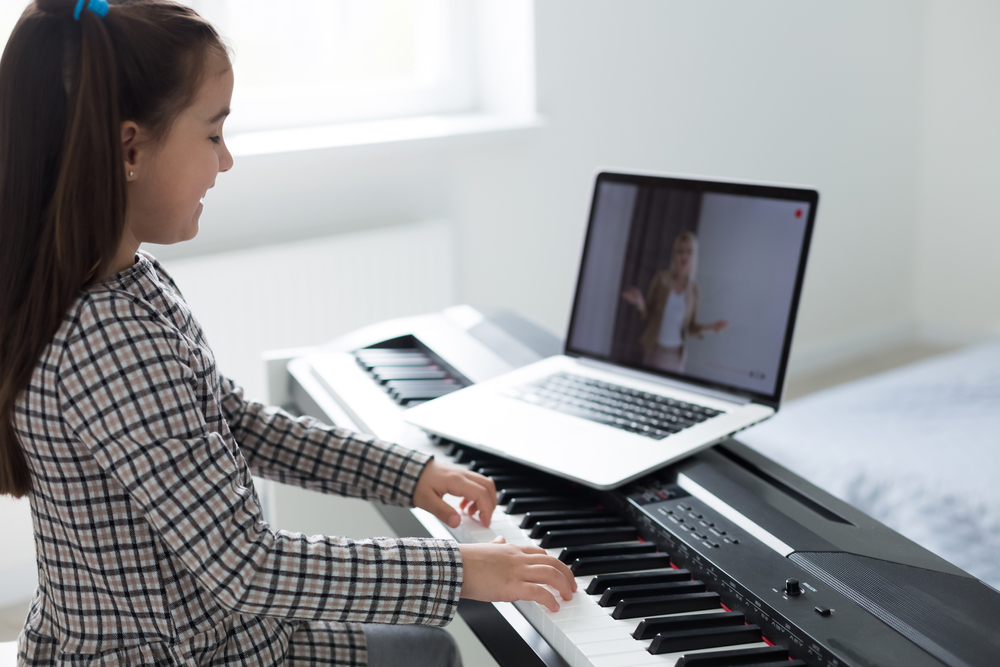 LIVE AND INTERACTIVE CLASSES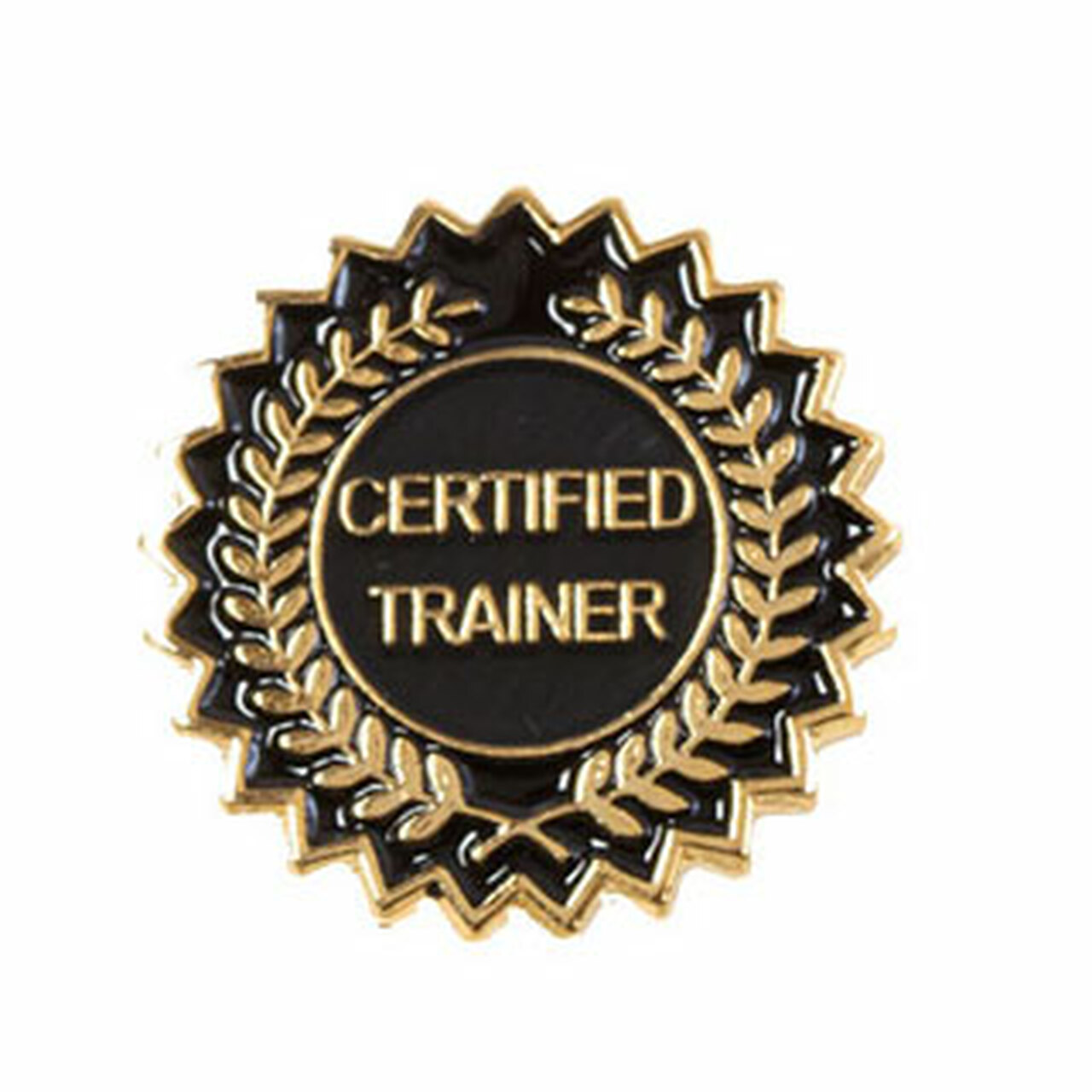 PROFESSIONALLY CERTIFIED AND FAMOUS INSTRUCTORS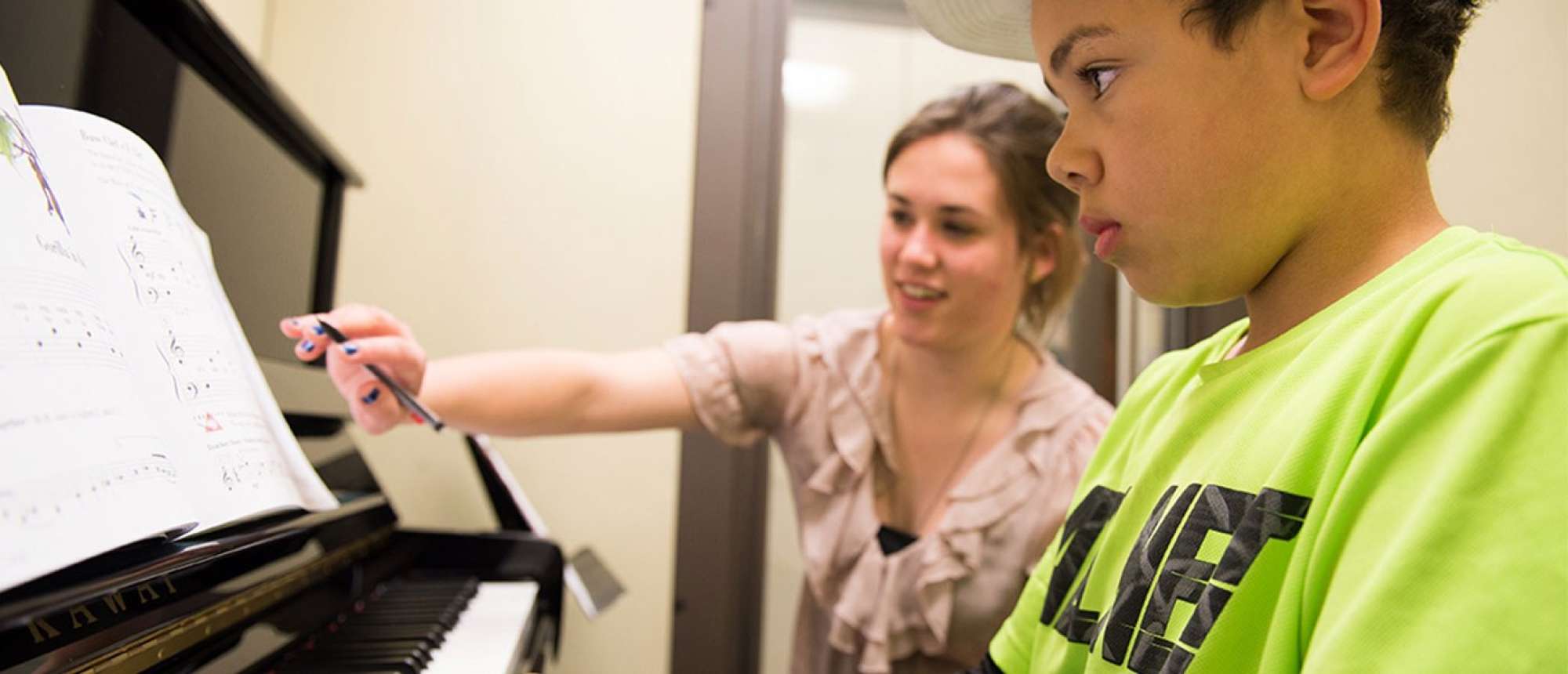 INDIVIDUALIZED TRAINING SESSIONS AND FAMOUS INSTRUCTORS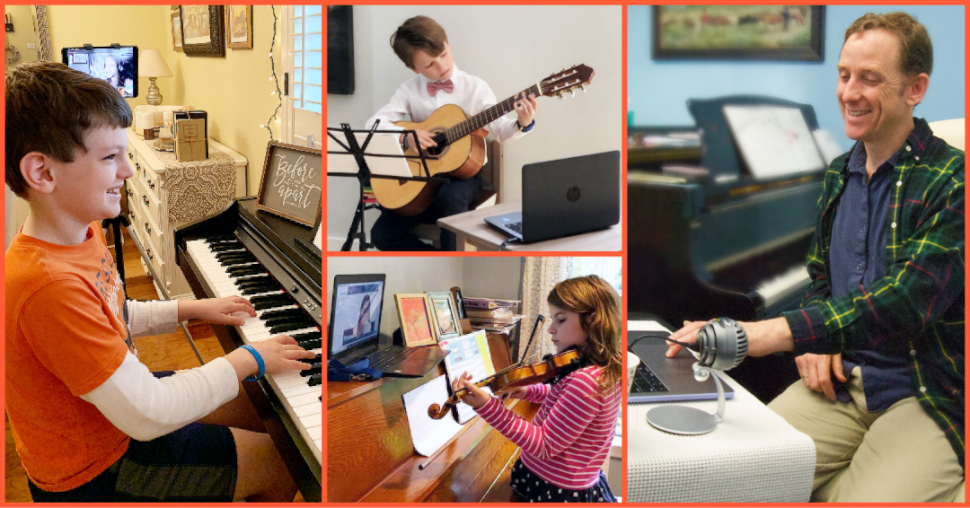 COURSES FOR ALL AGE GROUP AND BOTH GENDERS
Give us a call today and see how we can help you achieve your piano goals, whether you're a beginner, or just looking for improvement, we can help. Our friendly piano teachers are here to share both classical and contemporary piano expertise and help you develop your piano skills and musical talents. Our online flexible scheduling accommodates piano lessons around your busy work or school schedule, with The Honour's School of Music piano courses in both the mornings and evenings. Feel free to use our contact form, email us, or call us to schedule your piano lesson today!
Start straight away and learn at your own pace. If the course hasn't started yet Feel free to use our contact form, email us, or call us to schedule your piano lesson today!
Schedule Your Class Now
Recommended Equipment For Students
The equipment required for students is a little different than for teachers. Students don't need as much.
Computer, tablet or other device to run the video streaming software (i.e. Zoom, Meet etc.)

The computer or device needs to be located in the same room or space as the drums, of course. Many of my online students have used a tablet or Ipad placed on a music stand. It works perfectly! And, it's simple. If you go this route, that's all the equipment you'll need.

Standard webcam with a decent microphone (unless you're using a tablet, Ipad or Smart Phone)

If you are using a device without a built-in webcam, the Logitech C920 Pro Webcam is a good choice. If you're thinking about using the webcam that's built-in to your laptop, make sure your laptop's built-in microphone provides clear audio from further distances. External webcams like the Logitech tend to have better quality microphones than laptops.

Headphone or earbuds can be used by the student but aren't necessary

Remember that if you're wearing headphones or earbuds, the sound of your drums will be muffled in your ears. Whether that's a problem is up to your individual preferences.
Should I start on an acoustic drum set or an electric drum set?
If you are a beginner it doesn't really matter whether you start on an electric drum set or an acoustic one. There are some advantages to each. The cost is similar between electric and acoustic drums. You can wear headphones with electric drums and you can put rubber pads (silencers) on acoustic drums to bring the volume down somewhat. Please speak with your drum teacher about which drum set is right for you, your lifestyle, and your budget.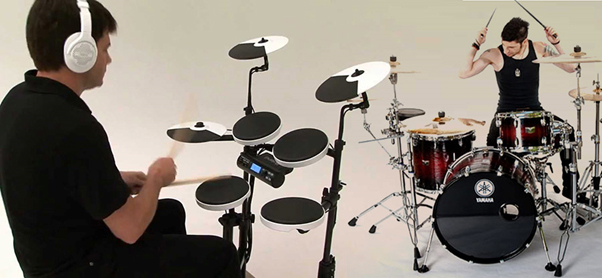 Drummers often start on one type but then move on to purchase the other type and vice-versa. Many students even start on just an inexpensive rubber practice pad for the first month or two. For the most part, electric and acoustic drum kits are played the same way. If you can play one, you can play the other. There are a few things you can do on each that you can't do on the other for example: With acoustic drums, you can play really softly and with brushes for quiet jazz songs. That's not as easy to do on an electronic drum kit. On an electric drum set (kit) you can make sounds that an acoustic drum set makes but you can also make any sound in the world! If you can hear it, you can play it on an electric drum set. Car horns, guitar chords, even dog barks, and exotic percussion instruments from around the world!
You really can't go wrong with either unless you need the drum student to practice quietly or with headphones at times. In that case, you definitely want an electric drum set 🙂 You can always call our school office and someone will be happy to help guide your decision!